Wheat Ear Lace Short 麦穗蕾丝短版
The pleated technology of wheat ear lace gives the bra a three-dimendional feel. The Lycra spandex inceases the elasticity and softness, which makes the bra more comfortable to wear.
蕾丝设计为麦穗皱褶,具有立体感,莱卡面料,增加蕾丝回弹性及柔软性。手感更舒适。
The cotton pad with air holds brings refreshing and cooling weather experience.
内层设计为冰凉性能透气孔,给体验者冰凉透气体验感
The bra comes with two pads, one thick and one thin, to meet with different chest types. The thick pads are made of light and permeable cotton with 360 air holes . Both of the thick and thin pads are connected with knitted belt to better achieve stability . gathering and prevent running cup.
双胸垫设计,厚杯为轻盈透水棉材质。配一副厚一副薄
满足不同胸型需求,杯垫含有360个透气孔。厚薄杯垫设计含针织链接,更好达到聚拢,稳定,防止跑杯等情况。
The crotch of the panty is made of seaweed cloth, which has antibacterial and anti-melanin effect. The waistband and leg opening are equipped with color matching knitting to increase the ornament and improve the elasticity.
赠送内裤裆部采用海藻布,具有抗菌黑色素效果,腰头及脚口配置了配色针织,增加点缀同时也提起高弹性作用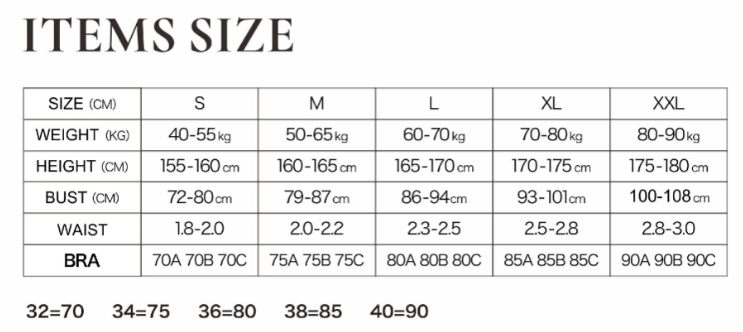 Each box comes with:
每盒有:
1 Bra & Panty & 2 thin pads
1 套内衣 和 1件内裤 和2块薄垫
Powered by Froala Editor
Customer comments
| Author/Date | Rating | Comment |
| --- | --- | --- |